JAACK
A Polar Bear.
He's 19"(48cm) tall, made from 1/2" (1.5cm) off-white mohair, is fully jointed & free standing with a Superior polyflock and glass bead fill. He has black glass eyes, a sculptured leather nose and we have accentuated his features with black airbrushed highlights and given him a scarf to wear (patterns vary) which he can remove when he wishes to. Edition of 10.
$250.00AU
DUNSTALL
Stands 18" (46cm), made in 3/4" (2cm) pile darkest brown mohair, with 3/4" (2cm) pile cream mohair insert on face & chest. Has soulful brown glass eyes, accentuated airbrushed features, self & trapunto paw pads. Dunstall is fully jointed & free standing. There's a little bit of Scotland in him, as he wears his tartan scarf and tam-o-shanter everywhere! (tartans used will vary) Edition of 10.
$260.00AU
Due to demand, re-released in Open Edition
(Not signed or Numbered)
ALEXANDER
Is a 20"(50cm) "Chestnut Brown", dense curly mohair with a pile of 3/4" (2cm). He has self-fur / trapunto paws of brown suede and Raven Black Premium English glass eyes. Alexander is fully jointed, arms wired and has polyflock and glass bead fill. He proudly wears a tie with a gold heart attached (tie color & print will vary).
Open Edition
$140.00AU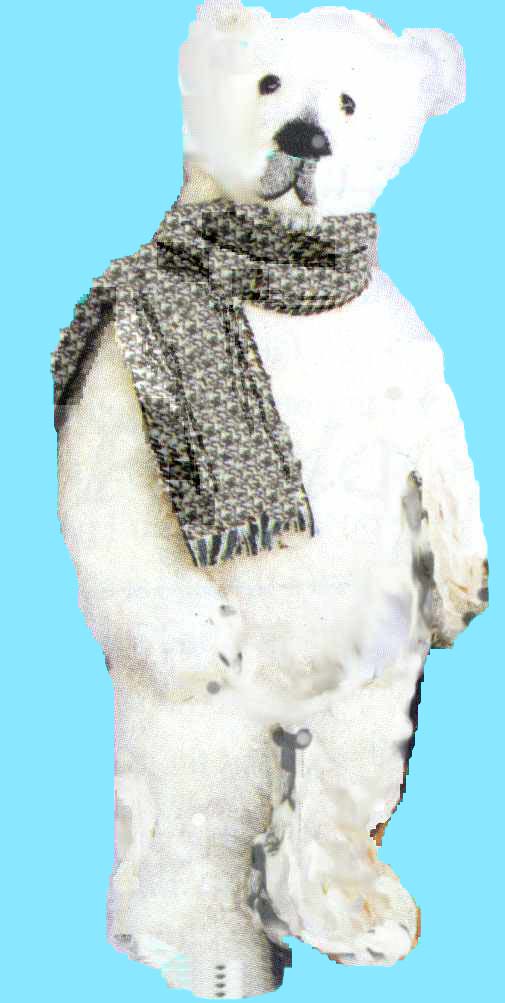 Bears (and Friends ) Available.
TOBY
He stands 15"(48cm), has black glass eyes and his soft medium sparse mohair fur is in a delightful 'oatmeal' color. His matching paw pads are suede leather. He is fully jointed and has a polyflock & glass bead filling. Toby has chosen to wear a dapper white olde' world collar with a discreet teddybear pin attached.
Open Edition.
$180.00AU
Available also as a kit.